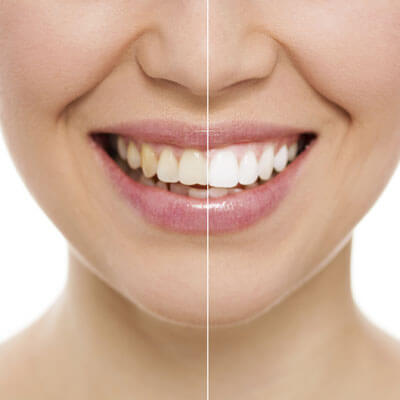 Teeth Whitening
At Booragoon Family Dental Centre, you'll find a full suite of services to suit your needs. We strive to provide an excellent service to ensure you love your experience and the results you get from our care. If you've been thinking about making a change to your appearance, you may want to consider teeth whitening.
We feature teeth whitening kits that contain everything you'll need to do your bleaching at home. These kits are safe, effective and won't damage your teeth. Unlike many other options, our kits are less likely to cause sensitivity afterwards. You'll be in total control of how white you want your teeth to be and how many times you apply the whitening solution. We will provide you with sufficient instructions on how often to use the whitening solution in the most safe and effective way.
Over time, you may have noticed that your teeth aren't as white as they used to be. Don't worry – this is normal! Our teeth can't always maintain the same level of brightness. They can become discoloured by:

Red wine, tea and coffee
Staining foods
Certain medications
The ageing process

Though our teeth won't stay bright white forever, you can take control into your own hands with teeth whitening. A simple take-home kit is all you'll need to show off a beautiful, new appearance.
Your first appointment is when we'll examine your teeth. If we find that you are a candidate for teeth whitening, you'll take your kit home that day with full instructions.
First, we'll take an impression of your teeth. From these, our laboratory will create your customised whitening trays. Since they're made just for you, they'll be comfortable to wear. You can pick them up after about a week, along with your whitening gel. When you arrive, our dental nurse will walk you through each step so that you know how to proceed.
Is there any other way than a teeth whitening procedure to remove stains from my teeth?

We love how surprised our patients are when they see how much of the surface stains are removed from their teeth by a simple cleaning. If a generalised yellowness persists, however, we can discuss whether you'd like to move forward with teeth whitening.
How long will my whitening last?

How long your whitening lasts will depend on your lifestyle and whether it involves any of the factors that are listed above as contributors to the darkening of your teeth. Typically, the teeth whitening lasts for 6-12 months.
Will my teeth be sensitive after they've been whitened?

There are many whitening products out there that will leave your teeth sensitive to hot and cold. Some people resist the idea of whitening because of the sensitivity they feel will result. We've chosen to work with the brand we have due to the great outcomes people get, which include a reduced chance of sensitivity.
How do I know if I'm a candidate for teeth whitening?

There are few contraindications for teeth whitening. We provide this service only for people with good oral hygiene. If you have cavities, an infection or other problems, we will need to address those before you can start your whitening procedure. At your initial appointment, we'll examine you to make sure your teeth are suitable to be whitened.
*Any surgical or invasive procedure carries risks. Your dentist is a qualified practitioner who will discuss risks and benefits with you, to help you make an informed decision about your dental treatment

Teeth Whitening Booragoon WA | (08) 6244 2288