Crowns and Bridges
At Booragoon Family Dental Centre, we believe in looking after the whole person. Though we concentrate on the health of your mouth, we understand that it's connected to the wellbeing of your entire body. That's why it's vital that we provide an array of solutions that suit your individual needs.
Two of the treatments that we perform most regularly include crowns and bridges. These are restorative dentistry measures. A crown is appropriate for a damaged tooth that needs to be stabilised. A bridge is a replacement for a single missing tooth or multiple missing teeth in a row.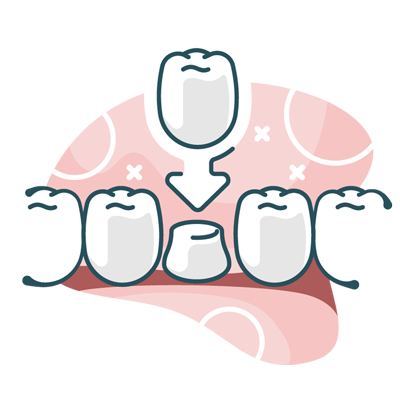 A dental crown is a porcelain cap that sits on the top of your tooth. Once a tooth has been compromised, we can fit this porcelain restoration over the top to protect the tooth from splitting. It is also appropriate for teeth that have large, heavy fillings. They may fall out of the tooth or break off of it. Having a crown is the next step that will restore your oral health.
You would also require a crown after having a root canal treatment. When you have this procedure, your tooth is weakened. Having a dental crown placed on the tooth will give you the full coverage you need.
The Procedure for Getting a Crown
When you receive a crown, the process is straightforward. It takes about an hour in total. We'll take a look at your tooth, prepare it to receive the crown and take impressions. You'll receive a temporary crown to wear for about two weeks while the laboratory creates your custom crown.
When you return, we'll have your crown ready to be placed. We'll take a look at how it sits in your mouth and make any adjustments as needed to make sure your bite is comfortable and properly aligned. Then, the crown will be cemented into place.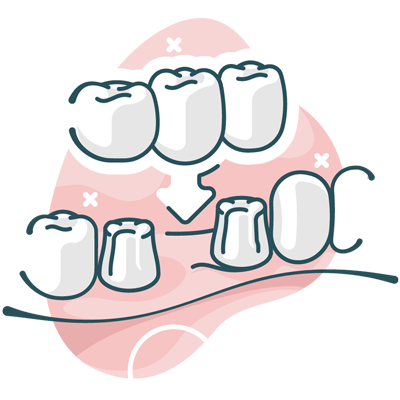 A bridge is typically two crowns with a false tooth between them. It's an effective way to replace a tooth that has been missing. The crowns on each end are attached to the teeth on either side of the gap. The false tooth, then, is suspended into the space where your tooth has gone missing. We can replace up to about six teeth in a row using a bridge, with crowns on either side and false teeth in the middle.
A bridge is fixed in place, meaning you don't remove it like you would a set of dentures. You must, however, be sure to clean carefully under it as food particles can get stuck there.
The Procedure for Getting a Bridge
When you get a bridge, the process is similar to getting a crown. You'll come in to have your teeth prepared. We'll take impressions and give you a temporary bridge to wear. Meanwhile, our laboratory will custom-make yours. When you return for a follow-up a couple of weeks later, we'll have your bridge ready to go.
We'll remove the temporary one and place the permanent bridge, cementing it so that it remains strong and vital. Any small adjustments can be made straightaway, ensuring that your bridge is comfortable and easy to get used to.
*Any surgical or invasive procedure carries risks. Your dentist is a qualified practitioner who will discuss risks and benefits with you, to help you make an informed decision about your dental treatment

Dental Crowns and Bridges Booragoon WA | (08) 6244 2288