Fillings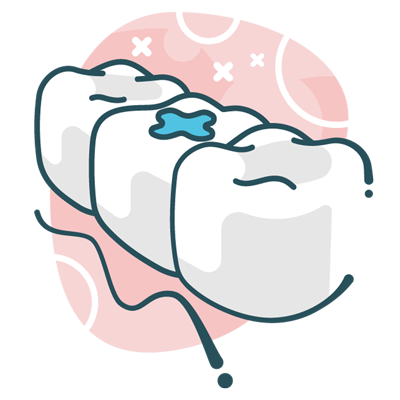 At Booragoon Family Dental Centre, our experienced team provides an array of solutions. We can make sure that your entire family shows off healthy, beautiful smiles for life. At any age, the need for a filling can occur. We can provide you with a filling that will address your cavity and restore your great oral health.
The Signs You May Need a Filling
You might have no symptoms at all if you have an area of tooth decay. At your regular checkups, we'll examine each tooth. We may find that a tooth has some decay that needs to be addressed. There are, however, some common signs that a filling is necessary, such as:
Toothache
Tooth sensitivity
Holes or pits in teeth
Staining on the surface of a tooth
Pain when chewing
If you have any of the above, we suggest that you contact us straightaway. We can see you for a consultation and determine if you require any treatment.
It's easy to overlook a problem like a cavity. You might not have any pain and think it's okay to write off getting the treatment you need. If left unaddressed, it can turn into a more serious issue that requires a root canal treatment or extraction. Instead, you can fix it directly with a simple filling.
We'll use a numbing gel around the tooth we're going to fill. Then, if you choose, we can give you an injection of anaesthetic. Some people choose not to have the injection. Once you're numbed, we can clean out the decay and shape the surface of the tooth to receive the filling.
When the tooth is clean, we can apply the filling. We'll use a water sprayer that our dental nurse suctions up to make sure you're comfortable. The filling will be shaped so that it doesn't affect your bite.
What materials do you use for your fillings?

We offer tooth-coloured white fillings as well as traditional amalgam fillings. You can decide which you prefer. We'll advise you on our recommendations depending on the tooth that is being filled.
Is there a lot of pain involved in getting a filling?

Some people report virtually no pain involved in getting a filling. You may not even need an injection of anaesthetic following the numbing gel being applied. If you're sensitive in the area the tooth is located, however, we can do both.
I don't have a toothache. Why would I need a filling?

You don't always feel it when a tooth starts to decay. You may not have any discomfort at all, yet your tooth needs attention. That's why we recommend you see us for bi-yearly checkups. At these appointments, we can make sure that there are no early signs of decay that would indicate a future problem if left untreated.
Will I need to come in for a subsequent visit to get a filling?

After we have examined your teeth, we can do your filling straightaway. You won't need to return for a second appointment to have your filling done. If you want to return at another time, however, we can schedule you a visit in the future for your filling procedure.
*Any surgical or invasive procedure carries risks. Your dentist is a qualified practitioner who will discuss risks and benefits with you, to help you make an informed decision about your dental treatment

Dental Fillings Booragoon WA | (08) 6244 2288