Root Canal Treatment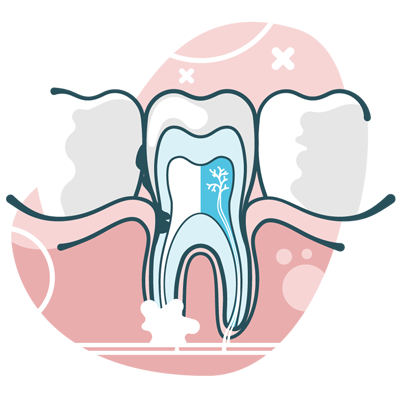 At Booragoon Family Dental Centre, we love helping people show off healthy, beautiful smiles. If your oral health isn't as good as it could be, we provide a wide array of solutions to help you improve it. Children, parents and grandparents can find the customised options they need at our practice.
At any time in your life, you can get an infection deep inside of your tooth. In such a case, a root canal treatment may be the most appropriate way to restore your oral health.
When a Root Canal Is Required
If your tooth has been decayed or has another form of damage, it can affect the nerve in your tooth. The nerve is the inner layer in your tooth. When this nerve gets irritated, it's a sign that you have an infection that must be addressed. During the root canal procedure, we will clean out the infection. Then, the tooth can be sealed off and topped with a crown to be sure that it has the stability you need from your tooth.
It's essential to know that you may not have any symptoms at all and still need a root canal. That means attending your six-month checkups is crucial to protecting your oral health. The signs that you may notice, however, include:

Extreme sensitivity to cold or heat
Pain when biting on the tooth
Darkening of a tooth
Swelling and tenderness in the gums
What looks like a pimple on the gums
Your choice of dental treatment may depend on the location of the tooth in your mouth. For example, if a back tooth is infected, you may choose to extract it. If it's a front tooth, or you want to preserve your natural teeth at all costs, a root canal may be your best bet. We are here to support your choices and provide only the treatment that you want.
Is there pain involved in a root canal treatment?

For years, the phrase "root canal treatment" would make people assume that the procedure involved a great deal of pain. Today's root canals, however, aren't going to compromise your comfort. We utilise the proper anaesthetic to make sure that you don't have to be in pain during your procedure.
I'm nervous about my treatment. Can you put me at ease?

Many people had dental anxiety before coming to our office. Once here, however, they love their experience with us. Our team is dedicated to making your experience a pleasant one. We'll work to alleviate any concerns you have. Our patients love that we're not your typical cold, distant and formal dental practice. You'll feel comfortable the moment you meet us.
I'm think I might need a root canal treatment. What should I do?

Needing a root canal treatment isn't something you'll be able to figure out on your own. The only way to know if you require one is to visit a qualified dentist. At your initial consultation, we will examine your teeth. Then, we can give you our best recommendations on what you should do.
What if I don't want to get a root canal treatment?

We will never force you to do any treatment that you don't want. There may be other options to address your particular problem. We'll go over them to let you know what they are, then let you decide how you would like to proceed. Of course, this includes not having any treatment at all. We're here to accommodate you, and you're the boss.
Book Your Time Today
Contact Booragoon Family Dental Centre now to schedule your root canal treatment Booragoon with our friendly, gentle team!
*Any surgical or invasive procedure carries risks. Your dentist is a qualified practitioner who will discuss risks and benefits with you, to help you make an informed decision about your dental treatment

Root Canal Treatment Booragoon WA | (08) 6244 2288